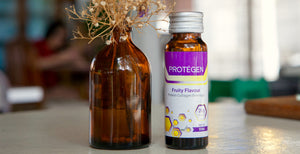 WHY PROTÉGEN
---
PROTÉGEN IS HIGH IN PROTEIN
PROTÉGEN contains 20g protein in the form of collagen protein peptides, higher than any other collagen protein supplement in the market. 
PROTÉGEN protein are low molecular weight peptides which will be easily absorbed by our body.
PROTÉGEN IS LOW IN ELECTROLYTES (Ca, Ka, Na, P)
PROTÉGEN is a better choice of nutrition supplement for people who has electrolytes disorder.

BENEFITS OF COLLAGEN PEPTIDES  
Clinical studies have shown that collagen protein peptides are safe to be consumed daily and are clinically proven (See The Research) for :
Lean Muscle Mass: 
Collagen protein peptides in combination with resistance training improved body composition and increased muscle strength.
Joint and Bone:
The efficacy of collagen protein peptides used for improving joint function and reducing discomfort is backed by strong scientific studies.
Skin Health:
RCT showed that collagen protein peptides had significantly increased the density of skin by 9% after 4 weeks of ingestion.
Case studies in hospital burns unit showed that PROTÉGEN accelerated skin wound healing in burned patients